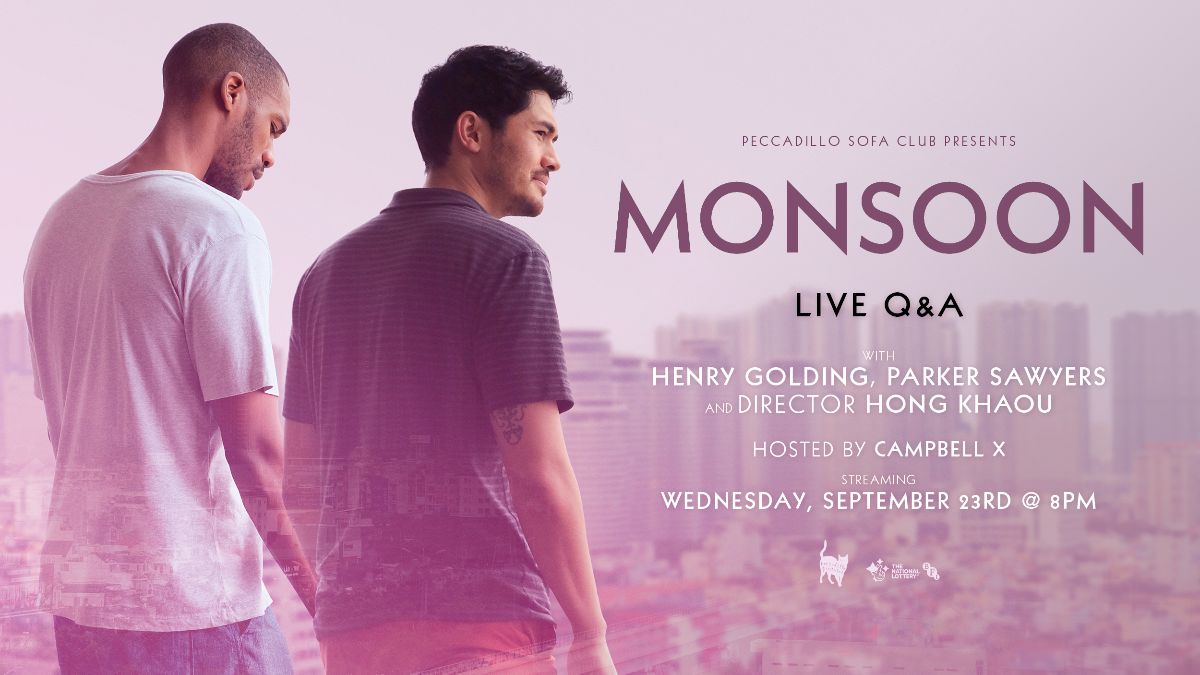 ONLINE PREVIEW SCREENING: WEDNESDAY, 23RD SEPTEMBER, 5PM to 7.45PM
BUY TICKET ON OUT SAVVY OR EVENTBRITE
Peccadillo Sofa Club returns for a mammoth event with an online preview screening of MONSOON followed by a live Q&A.
On Wednesday 23rd September you have the opportunity to join us for an early bird screening of MONSOON and then ask Henry Golding, Parker Sawyers and director Hong Khaou questions about the film. Campbell X will be your extraordinary host for the evenings events.
Each ticket purchased grants access to a unique streaming link for MONSOON available to stream between 5pm until 7:45pm on Wednesday 23rd. Please note that due to licensing agreements the online preview screening will be limited to viewers in the UK & Ireland only. 
At 8pm (BST) the live Q&A will be available via livestream on YouTube.
We're pleased to announce that a BSL (British Sign Language) interpreter will be available on the Q&A livestream.
MONSOON Dir Hong Khaou
Running Time: 1hr 30

Directed by Hong Khaou (Lilting), MONSOON is a visual and emotional tour de force with a tender performance from Henry Golding (Crazy Rich Asians, The Gentlemen). The film is a rich and poignant exploration of the struggle for identity in a place where the past weighs heavily on the present.

Kit returns to Ho Chi Minh City for the first time since he was six years old when his family fled the country in the aftermath of the Vietnam-American war. Struggling to make sense of himself in a city he's no longer familiar with, he embarks on a personal journey across the country that opens up the possibility for friendship, love and happiness.