Through the Festival, links are made. Generally, films which reflect our lives (either directly or indirectly) are still not that common, so we try to keep our eyes open and flag up any we become aware of being screened in or near Shropshire by checking out the different film venues, and listing them on our Local LGBTQ+ events page.
Otherwise we actively encourage the making of LGBTQ+ related films/videos either as a result of contacts made through our Festival or other local LGBTQ+ events or we get to hear of projects or work done by local people. Here are some examples;
All the Lonely People , from December 9th, 2021; Stu Maddux & Joe Applebaum
In 2012 Stu & Joe attended the UK premiere of their film Gen Silent 2010 (a documentary about the impact of ageing for LGBTQ+ elderly people), resulting in the formation of SAND . In September 2020 we were honoured to work with them and together screen their film Reel in the Closet 2015 (another documentary that reveals never before seen home movies of LGBTQ+ people dating back to the 1930s.)
A number of Shropshire locations and agencies are involved in the film. It addresses the extraordinary issues arising as the number of people suffering from chronic loneliness skyrockets each year. 9 million in the United Kingdom; 43 million in the US; incalculable worldwide.
The film's UK premiere (December 4th 2022 at the Old Market Hall) – worth waiting for.
(Re) Wilding (2020) 1 minute. Emma Plover.
3-way projected, video installation exploring queerness, identity, rurality and digital connection, '(Re)wilding' draws our attention to the overlooked experiences of familiar surroundings, the magic contained in our everyday lives and the nature we are a part of.
The installation featured as part of the BFI LFF 2021 event 'Queer and Pleasant Land'
Created in partnership with Invisible Art Network and Rural Media.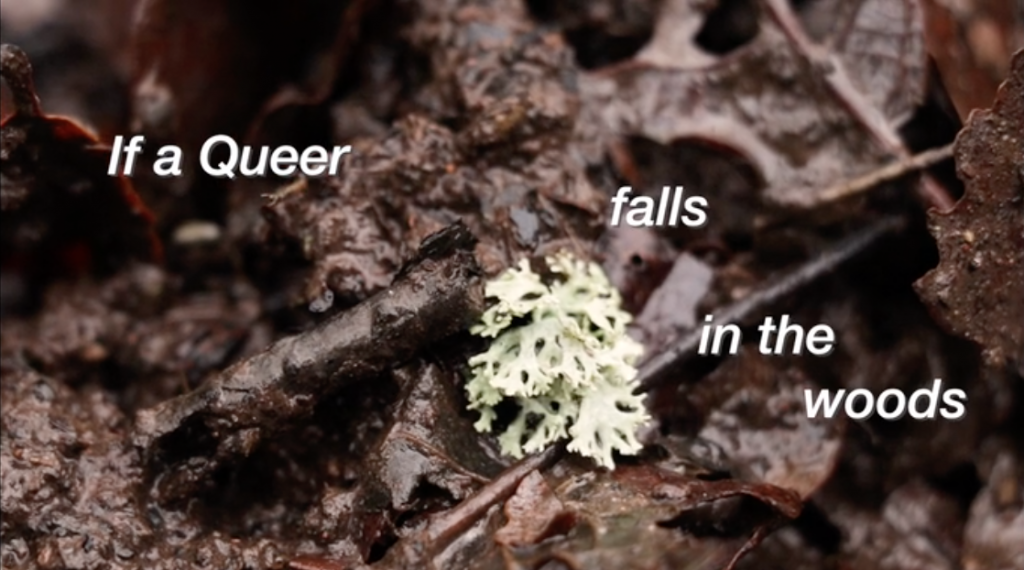 Metro Charity (2020) 108 mins, Tom Line
How did East Greenwich become a queer Mecca during the mid-1980s? METRO's 'Our History' documentary reveals all in glorious technicolour! Trustee, Geoff Hardy, takes part in the panel discussion to help answer that question.
Pride in London (2019) 4 mins
Geoff Hardy (though referred to as Geoff Sweeney!!), Peter Scott-Presland and Andrew Lumsden talk about the very first UK Pride in 1972.
Illegally LGBT (2018) 10 mins, Thomas Farrell
Shot in Shrewsbury by film students, Illegally LGBT takes a look into the Gay rights and LGBTQI+ movement, covering some serious topics. Tom talks to Pliny Soocoormanee who helps British asylum seeker rejectees, like the rape and escape of Ispaw from Cameroon, and Peter Tatchell, a prominent human rights activist who has been arrested over 100 times trying to stand up for what he thinks is right. Come on a journey with Tom to discover the true problems plaguing the heart of modern-day Pride and what can be done to help regain its integrity.
Pride in History (2016) 20 mins, Zachary Cole
Involving two of the Festival Trustees and significant footage of the Shrewsbury Hub (Back in Time) of the National LGBT History Festival 2016. this short film also involved members of Shropshire XYZ youth group. It was made with the support of the Peter Tatchell Foundation
Wherever You Are (2016) 14 mins, Joan Montesinos and Gabriel Virata
Shot in Shrewsbury, 'Wherever You Are' is a short film taking LGBT characters down a different track. Exploring the relationship between a father and son, the short film tells the story of a father crippled with grief, yet longing to do something for his son. The short film was produced entirely through crowdfunding and held it's international premiere at the Shropshire Rainbow Film Festival in October, 2016. For all short film enquiries contact: [email protected]