Sunday 16th October 2016, 11:00-12:30
The Hive
Part of the International Short Film Programme
Year: 2016
Country of Origin: Australia
Length: 9 min 45 secs
Director: David Willing
Facebook: http://www.facebook.com/theescapehatch.movie
Synopsis
A girl walks into a restaurant dressed as Wonder Woman. She flicks her cape, takes a seat at the bar and orders a beer.  As the restaurant staff ponder the motive behind this costume, the girl receives a text message and flies out the door.  But the next Saturday evening, she's there again

Director Bio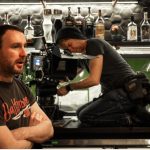 David Willing fell in love with cinema at the age of five when he saw the 1939 adventure/war classic Beau Geste with Gary Cooper. In 2015 he directed four short films including the comedy/romance The Escape Hatch, (Re)Construction, a crime mystery and Walking With The Mursi, a doco about his solo hike through remote Ethiopia.
2014 he directed six short films dramatising aspects of leadership for Deakin University. The unique educational films were made with professional cast and crew in genres as diverse as comedy and TV thriller.
2013 saw David direct and co wrote Lunch Date, a sharp black comedy funded by Screen Australia's Raw Nerve program. Broadcasted in 2014, Lunch Date became ABC2's highest rating short film of the year with an audience of 79,000, earning it two additional screenings.
The first music video David directed Now Where Getting Somewhere, was selected as ABC's Rage Indie Music Video Of The Week.His earlier short, Collier Brothers Syndrome depicting two brothers suffering mental illness premiered at the St Kilda Film Festival and screened on SBS TV.
His film school graduation short, Disintegration, an unflinching story of a sociopath, received the highest honour of the year and screened at Longford Cinema, Eye Candy 2000 and MUFF 2000.