Sunday 16th October 2016, 11:00-12:30
The Hive
Part of the International Short Film Programme
Year: 2014
Country of Origin: Ireland
Length: 12 min
Director: Brian Deane
Website: http://www.twfilms.ie/#!ceadghra/y6jb7
Synopsis
Two best-friends set out on a quest in pursuit of their first crush.

Director Bio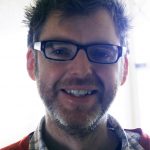 Brian is an Irish writer/director from Cork and graduate holder of a BA in English & Philosophy and a MA in Film production. He won his first short film award for his graduation film 'Without Words' in Cannes in 2008 as part of Spike Lee's International Film Festival and has been seen by 400,000 people on Youtube.
His first short film since college, 'Volkswagen Joe' has won awards in Rome, Boston, Dublin, Galway, Britain and Chicago in 2014 and also won the Best Short Drama award at the Celtic Media Awards. His web Series 'CTRL' has been nominated for Best Drama at the IAWTV awards in Las Vegas & at Raindance International Film Festival.
His first Irish language film 'Céad Ghrá' has screened in Galway, Cork, Dublin, San Francisco, Boston, Cleveland, Newport Beach, Rhode Island, Edmonton, Wichita, Washington and Seattle International Film Festivals so far as well as winning best short in the GAZE Film festival in Ireland.
It has also screened in every Starbucks in America on their digital network after being picked as one of "the Best of the Festival" at SIFF, it has also appeared on Aer Lingus and Alaska Airlines inflight packages.
His new film 'Blight' just won Grand Prix European Short Film Winner at Fantasporto as well as screening at Newport Beach, Cleveland, Seattle, Phoenix, Indie Lisboa, TIFF, FilmQuest, Galway, Cork, Belfast, Dingle and Fastnet film festival to date. Receiving nine award nominations so far.
His latest film 'Foxglove' is set to have it's International premiere this year at SITGES International Fantastic Film Festival of Catalonia and has been nominated for the  Paul Naschy Brigadoon Award.
Brian is also the founder of TW Films and a Berlinale Talent alumni 2016 and has just started work on his first feature film "Salvation" with award winning screenwriter Wiktor Piątkowski the writer and creator of the HBO Europe Polish TV Series "The Pack" or "Wataha".