Sunday 16th October 2016, 11:00-12:30
The Hive
Part of the International Short Film Programme
Year: 2015
Country of Origin: Canada/US
Length: 11 min
Director: Paige Gratland & Sam McWilliams
Website: http://mcguffinboots.com
Synopsis
Deana McGuffin is a third generation New Mexico boot maker, hand-crafting wearable pieces of art. When she is approached by a Canadian artist and a San Franciscan tattooer to create a gay themed cowboy boot, a story unravels of a unique collaboration that takes them to the heart of cowboy country in Northern Texas. BOOTWMN is a heart-warming, intimate and at times funny portrait of the queering of a traditional art form.
Director Bio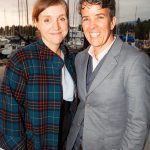 Sam McWilliams is a tattoo artist from San Francisco California, with a BFA from California College of Arts and Crafts in painting and drawing. Deana McGuffin:BootWmn is her first film.
Paige Gratland studied film production at Ryerson University. Her experimental work has screened at The Images Festival (Toronto), The Anthology Film Archive (NYC) and Inside Out Gay and Lesbian Film Festival (Toronto.) Deana McGuffin:BootWmn is her first documentary film.